Recording on the fly on her iPhone, the Chicago musician quit a high-end job to embrace free jazz and confront the racism that still thrives in the US
For young black girls from deprived parts of Chicago looking to play the clarinet, there arent too many role models. Id never even heard of the clarinet before. It didnt look cool. Id seen saxophones, but this looked weird, says Angel Bat Dawid, who was told she could play one in her school band. I went to the library to work out what it sounded like, and everything I could find was Benny Goodman. I was like: damn, this corny-looking instrument with this corny-looking white dude.
Thirty years later, Bat Dawid has hauled the clarinet out of corny white dude territory and hurled it into the cosmos. She appears at this months London jazz festival and her debut album The Oracle is one of the years best releases in any genre, where swelling vocals, warm organ chords and lilting and freaked-out clarinet lines combine in a profoundly affecting whole. It was recorded on the voice notes app of her iPhone, and takes its name from her own nickname, a character in the Matrix: A powerful black woman, and when everyone is acting crazy, shes chilling in her kitchen and dropping so much wisdom. I aspire to be a woman such as that.
Bat Dawid is often a hoot down the phone from Chicagos South Side, her voice cracking into hilarious high-pitched incredulity, but she jolts me out of the mirth with calm, sad ruminations on life in the US. Im a black woman theres no turning that off, she says. I look at the totality of the black experience. I dont see my sister who has a crack addiction for 40 years as not being successful. Because of the lineage shes coming from, this is the best she can do. When youre black, being alive is a success.
It was Mozart who first ignited her love for music, on a family cinema trip to see Amadeus, and later for the clarinet, when the composers 1791 Clarinet Concerto blew Benny Goodman out of the water. The reason why me and my siblings wanted to play instruments is that we wanted to be cooooold! she laughs. We wanted to play runs, and be like Fiddler on the Roof. I didnt know that with a clarinet, you can rip on it, and so then I really fell in love with the sound.
As the daughter of Christian missionaries, she had spent four years of her late childhood in Kenya and found it hard to adjust to life back in the US as a teenager. People didnt understand me, kids bullied me. Music and the arts kept me sane through all those weird adolescent years. She eventually went to college to study classical music. When you go into the classical realm, theres less and less diversity, fewer and fewer black people. I experienced a lot of micro-aggression. A professor expressed surprise at her skill in a conducting class. Why? Is it because Im black? Yeah! He blatantly said it! People meet me and I say Im a musician, and its: Oh, do you sing? Because thats all a black woman can do. Theres no way she can be a multi-instrumentalist and composer. Im this rebellious spirit, so it drove me deeper into getting better at my craft.
But the micro-aggressions stacked up into disenchantment, compounded by a brain tumour in her third year. I had all these medical bills. It was a lot. So I just started working. She recovered and ended up with a well-paid job in a high-end lingerie boutique, where she worked for seven years. While she enjoyed helping women with different body types, the consumerist environment chafed. Looking at boobs all day was not my passion. She retired, cashing out her pension and putting it towards a years rent to allow her to focus on music. My whole premise was saying yes to the things I would normally say no to, because I had to work. As soon as I started saying yes, wild shit started opening up.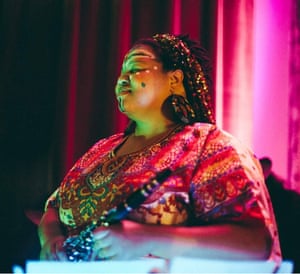 Source: http://www.theguardian.com/us