Everything I See I Swallow raises challenging questions about how we bring up girls. The women behind a new shibari show speak out
A young woman is strung up above the stage, a delicate lattice of red ropes criss-crossing the bare skin on her thighs and ribs, leaving an exposed patchwork of flesh. Its the startling opening of Everything I See I Swallow, a show that won a Fringe First at the Edinburgh festival this summer, a two-hander devised by actors and aerialists Maisy Taylor (the suspended woman) and Tamsin Shasha with director Helen Tennison.
What Taylor is demonstrating is the art of shibari, the centuries-old practice of Japanese rope bondage, which began as an elaborate way for samurai to restrain their captives and has evolved into an erotic art. Your first thoughts might be: this seems like a niche interest. But its the spark for a piece of theatre that speaks to something universal and pressing, about the rights of women over their own bodies, the ramifications of digital life, and that knotty old question: can it ever be empowering for a woman to take her clothes off in public?
Shasha plays Miranda, a woman appalled to discover her artist daughter Olivia (Taylor) has been posting semi-naked pictures of herself online. Their ensuing standoff is a primer on contemporary feminism and navigating sexuality in the internet age. That the pair have done their homework is evident (thinkers from Andrea Dworkin to Beyonc are namechecked) and the occasionally heavy-handed script can be self-consciously learned, but the fact is its fascinating territory, constantly evolving and full of complexity.
The pair act out an unusually frank but believable mother-daughter bond, the calm self-possession of Taylor, 25, versus the fraught energy of Shasha, 53. The aerialism is contemplative and illustrative, the umbilical attachment of mother and daughter stretching as the girl grows up, or Miranda tying herself in literal as well as figurative knots with the argument at hand. Different modes of text layer up: conventional scenes, direct address to the audience, quotes from feminist theory and naturalistic voiceovers.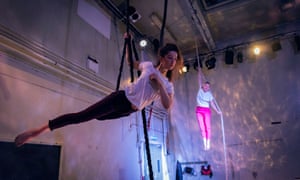 Source: http://www.theguardian.com/us