Europe poured in aid to help migrants in Libya but for thousands, life is still hellish and many prefer to risk staying on the streets
Men press anxious faces against the chicken-wire fence of Triq-al-Sikka migrant detention camp in downtown Tripoli as I enter. Welcome to hell, says a Moroccan man, without a smile.
Triq-al-Sikka is home to 300 men penned into nightmare conditions. Several who are sick lie motionless on dirty mattresses in the yard, left to die or recover in their own time. Three of the six toilets are blocked with sewage, and for many detainees, escape is out of the question as they have no shoes.
It wasnt supposed to be this way. After reports of torture and abuse in detention centres, and wanting to stop the flow of people across the Mediterranean, the European Union has since 2016 poured more than 110m into improving conditions for migrants in Libya. But things are now worse than before.
Among the inmates is Mohammed, from Ghana. In July, he survived an air strike on another centre, in Tajoura on the capitals south-western outskirts, that killed 53 of his fellow migrants. After surviving on the streets, last month he got a place on a rickety smuggler boat heading for Europe. But it was intercepted by the coastguard. Mohammed fell into the sea and was brought back to this camp. His blue jumper is still stained by sea salt. He is desperate to get word to his wife. The last time we spoke was the night I tried to cross the sea, he says. The soldiers took my money and phone. My wife does not know where I am, whether I am alive or dead.
Triq-al-Sikkas conditions are harsh, but other centres are worse. Inmates tell of camps where militias storm in at night, dragging migrants away to be ransomed back to their families. Tens of thousands of migrants are spread across this city, many sleeping in the streets. Dozens bed down each night under the arches of the city centres freeway. Since April, in a sharp escalation of the civil war, eastern warlord Khalifa Haftar has been trying to batter his way into the city in fighting that has left more than 1,000 dead and left tens of thousands of citizens homeless.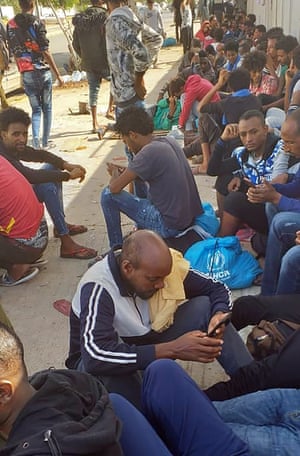 Source: http://www.theguardian.com/us