Nationalist protesters clash with security forces as the toll of dead and injured rises
In Baghdad, demonstrations are fast becoming the new normal. Last week, before protests on Friday that turned out to be the bloodiest in three weeks of unrest, people began stockpiling food and water. Concrete barriers appeared overnight to protect areas adjacent to the Green Zone. Vendors sold Iraqi flags as small groups of protesters arrived in minibuses, tuk-tuks and on motorcycles.
Iraq has been gripped by an unprecedented wave of protests in recent weeks, with thousands of demonstrators taking to the streets, determined to upend the political order that has been in place since the toppling of Saddam Hussein in 2003.
We came here to protest because we lost our country. We came out here to topple the government, said a demonstrator, Ahmed Aziz Kadhum.
When protests first began, grievances centred on corruption, the lack of jobs and basic services. But amid the governments heavy-handed response, demands for a better life soon evolved into calls for the government to resign. While Iraq has seen regular anti-government protests, this round is unparalleled in its nationalist and anti-sectarian nature, with predominantly Shia demonstrators rejecting the entire Shia political and religious establishment, which they blame for the countrys dysfunction over the past 16 years.
The prime minister, Adel Abdul-Mahdi, who came into office a year ago, has so far resisted public pressure to step down, warning that the governments resignation could throw the country into chaos. With protesters refusing to budge, the state could be set for a prolonged period of unrest.
On Friday, despite widespread calls for restraint, 52 people were killed, bringing the total death toll to more than 200, according to Iraqs human rights commission. In Baghdad hundreds of protesters waving Iraqi flags flocked to the capitals central Liberation Square, where they faced off with black-clad riot police.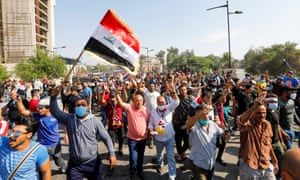 Source: http://www.theguardian.com/us