At a remote Arctic ice station, scientists are looking to the smallest of life forms to predict the pace of species extinction
Behind the remote research huts of Sermilik ice station, a vast sheet of ice stretches north for 1,480 miles, spanning an area three times the size of France.
It is holding 10% of the worlds freshwater, water that has been frozen solid for millions of years. Its glacier calving season in the south-eastern reaches of Greenland, and the adjacent channel is full of the thunderous roars and cracks of a flotilla of icebergs breaking apart.
Across a narrow granite ravine separating the visitors hut from the main living quarters of the 40-year-old international scientists base, lab machines click and whirr through the night.
The days samples water, air, carbon, algae spin frantically around curious-looking aluminium discs. Melting ice drips slowly into assorted beakers. Struggling to adjust to the midnight sun, a team of international research scientists from Aarhus University and Germanys national research centre for solid earth sciences peer into microscopes at clues to the planets future. These are samples of glacial past and present, retrieved from the belly of the Mittivakkat glacier, which is in mortal retreat on the plateau above. To understand our origins, scientists look to the stars. To understand our eventual demise, the glacier is ground zero.
Far from being barren places, glaciers represent more than 10% of our landmass and are teeming with biodiversity. They are spawning and breeding places not just for the familiar species like whales, arctic hares and foxes, polar bears, seals and muskoxen but also for bacteria, fungi and algae that have a vital role in the planets biodiversity. This team of microbiologists is attempting to decode the lives of these hidden creatures and their links to the ice melts across the polar caps. Algae blooms, these scientists say, are turning sun-reflecting glaciers into sun-absorbing hotspots.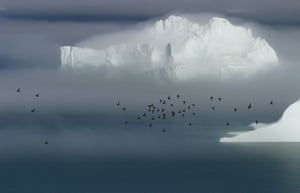 Source: http://www.theguardian.com/us