Seinfeld, Friends, The Office with an ever-increasing wave of new content, why are TV streamers paying hundreds of millions for classic comedies?
Its the the fall of 1998. Netflix has launched with 30 employees and 925 DVD titles available to rent. Amazon has just announced its intention to expand beyond selling books online. And Seinfeld, the hugely popular sitcom about daily life in New York City, has wrapped its ninth and final season on NBC.
At the time, the enduring appeal of Seinfeld seemed so assured that Turner Broadcasting paid a record sum, over $1m per episode, for the right to broadcast reruns on its channel TBS. Its important to realize the scope of the hit that this show is and the broadcast networks inability to continue to generate big, megahit shows like that, said Bill Burke, the then president of TBS, at the time of the deals announcement.
Twenty-one years later, Burkes statement is not quite prophetic networks have produced numerous mega-hits, such as The Big Bang Theory and The Office, since Seinfeld went off the air but not wrong, either. Much has changed (Netflixs business, Amazons products) but Seinfeld, along with its fellow NBC stalwart Friends, remains broadly popular and inordinately valuable; last month, Netflix paid over $500m for the rights to stream all of Seinfelds 180 episodes globally.
The sky-high sum for the show about nothing is one of several giant deals in recent months for library rights to legacy shows, representing a new, cash-laden front on the global streaming wars. In July, WarnerMedia outbid Netflix with $425m for all 10 seasons of Friends, which will stream on its forthcoming service HBO Max in spring 2020. A month earlier, Netflix also lost the rights to The Office, one of its most popular shows, to NBCUniversal, who paid $500m to stream the show for five years on its own forthcoming service, Peacock, in 2021. (Netflix will maintain global rights.) And in a deal said to be pushing $1bn, WarnerMedia has secured both the streaming rights (on HBO Max) and broadcast syndication (on TBS) for The Big Bang Theory, the nerd sitcom that ended its run on CBS last year.
These pricey deals for what is essentially digital reruns have, like the Seinfeld syndication deal two decades ago, raised eyebrows. Why are streaming companies willing to pay so much for shows of nostalgic value? And as numerous companies prepare to launch their own streaming services HBO Max and Peacock, not to mention the forthcoming Apple TV+ why bet on the appeal of legacy TV shows?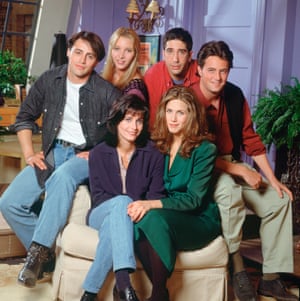 Source: http://www.theguardian.com/us