In the Sacramento city school district, nearly half of disabled students are separated from peers. A lawsuit claims the district is violating federal law
Stephens teachers started sending him to the separate room when he was in first grade.
Now 10, Stephen has been diagnosed with autism and anxiety. His mom said that when he got frustrated and behaved in ways teachers found disruptive breaking pencils, blurting out or crumpling paper educators swiftly removed him from the classroom, sending him to a room where he would sit the rest of the day without access to school work.
Sometimes the school simply sent him home for the day it happened more than 80 times by the time Stephen reached fifth grade, his mom said. Eventually, school staff started urging his mom to agree to place Stephen in a separate classes exclusively for students with disabilities where they said hed be happier.
His mom believes Stephens race makes him a target. Students called him the dumb black boy and teachers were quick to see him as the problem, she said.
Lawyers and education advocates say Stephens story is painfully familiar in Sacramento, especially for black students with disabilities.
In Californias capital city, nearly half of the districts 6,000 students with disabilities are separated from their peers, according to a lawsuit against Sacramento city schools filed in federal court earlier this month, in violation of federal law that protects students equal rights to education.
Along with two other students, all of whom are black and have been diagnosed with a disability, Stephen is a plaintiff in a suit that argues the Sacramento city unified school district is systematically discriminating against students with disabilities by excluding them from the classroom then segregating them in separate schools and classrooms without access to the same rigorous, educational material as their peers settings where theyre more likely to be physically restrained than to graduate.
Bridget Claycomb, an attorney for Disability Rights California, said the districts practice of isolating students with disabilities is unlawful and unethical.
Weve known for 65 years that separate is inherently unequal, she said, referring to the Brown v Board supreme court decision that established racial segregation in schools as unconstitutional.
There is an othering thats happening. These children see a system that is built for most students but not for them. So they begin to internalize that they are not deserving of a quality education, Claycomb said.
Federal law requires public schools to educate students in mainstream classrooms, wherever possible. Parents and community members in Sacramento say the school district has known for years its practice is problematic but has done nothing to change it.
Lawyers and advocates say the segregation of students with disabilities is only one example of the ways in which Sacramento schools excludes certain students. A 2018 report by researchers from San Diego State and UCLA found that Sacramento suspends black students more often than any other school district in the state.
Black and white students represent 15% and 16% of the districts 47,000 students, respectively, but in 2018 black students accounted for nearly 50% of all suspensions.
And in Sacramento, black students with disabilities are suspended more often than any other group. Theyre 15 times more likely to be suspended than their white peers without disabilities, according to the lawsuit.
A spokesperson for the Sacramento city unified school district declined to comment, citing pending litigation, but wrote in a statement: Let it be clear that we will not tolerate any form of discrimination in our schools and are taking these allegations very seriously. We will review the complaint once it is sent to us.
Experts and education advocates have long argued that out-of-school suspensions increase the likelihood students will later drop out of school or tangle with the criminal justice system.
California over the past 10 years has taken steps to curb the use of out-of-school suspensions. Between 2012 and 2018 numbers fell by nearly half from 710,000 suspensions a year to 363,000.
Last week, the California governor, Gavin Newsom, signed a bill that limited the use of willful defiance a catchall reason for suspending students for infractions as small as wearing hats or using cellphones.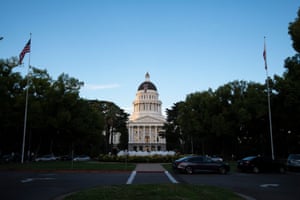 Source: http://www.theguardian.com/us