Sandeep Singh Dhaliwal was one of the first to wear the traditional Sikh articles of faith as part of his uniform
A Texas police officer who made headlines for being one of the first to wear traditional articles of faith as part of his uniform was killed during a routine traffic stop on Friday.
Sandeep Singh Dhaliwal, a sheriffs deputy in Harris county, which includes Houston, died after a suspect appeared to ambush him and shoot him in the back of the head.
The alleged shooter, Robert Solis, 47, was arrested and charged with capital murder. Although it was not immediately clear what punishment prosecutors would seek, Texas is a death penalty state.
Im sad to share with you that weve lost one of our own, Harris county sheriff Ed Gonzalez said on Twitter. Dhaliwal was unable to recover from his injuries, he said.
There are no words to convey our sadness. Please keep his family and our agency in your prayers.
Dhaliwal was shot about 12:45pm on Friday. Footage from a dashboard camera showed him having a conversation with the driver, then walking back toward his squad car. The drivers door swung open and he ran up behind Dhaliwal and shot him, the Houston Chronicle reported.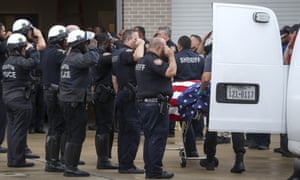 Source: http://www.theguardian.com/us