The presidents increasingly risible attempts to paint himself as a victim are alienating even his most loyal supporters, says Guardian US columnist Richard Wolffe
There was a time, not so long ago, when it was widely considered suicidal for an American politician to pay hush money to porn stars, cosy up to Russian leaders, or use national security dollars to buy foreign interference at election time.
In those quaint days of yore, an experienced politician might have steered well clear of anything that smacked of being on the wrong side of civil rights.
At some point over the last generation, even the conservatives who hate todays civil rights came to love yesterdays civil rights. Martin Luther King Jr was no longer a Commie revolutionary but a beloved national icon. Segregation and the Klans reign of terror was as obviously, stunningly immoral as Nazism.
Until today, and until Donald Trump. You may not have known this, but Trump is himself a victim, no different from the poor souls who were publicly tortured and murdered by the Klan and its mobs. Despite his German roots, and his familys business history of race discrimination, Trump thinks hes suffering just as much.
So some day, if a Democrat becomes President and the Republicans win the House, even by a tiny margin, they can impeach the President, without due process or fairness or any legal rights, tweeted the president who has no recollection of a predecessor called Bill Clinton.
All Republicans must remember what they are witnessing here a lynching. But we will WIN!
Trump is strange, but hes not a strange fruit. And so it came to pass that the only people who can stop Trumps conviction at his forthcoming impeachment trial were forced to spend the day talking about lynching.
To do so, you need to suspend a little reality and a lot of self-respect. You need to become a human shell that blurts out words with no meaning, that sparks thoughts with no intelligence. To wit: one Hogan Gidley, who holds the hallucinatory role of deputy press secretary in Trumps West Wing.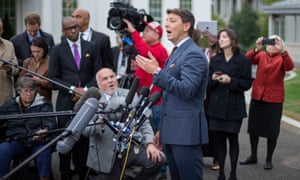 Source: http://www.theguardian.com/us