Knife-wielding employee shot dead after attack in building near Notre Dame Cathedral
Parts of central Paris were sealed off on Thursday after an employee at the citys police headquarters stabbed and killed four colleagues before being shot dead.
The man, who worked in the technology department, reportedly stabbed a colleague in his office with a ceramic knife before turning it on others, with the last attacked in the courtyard outside the historic building near Notre Dame Cathedral.
The victims were three male police officers from the anti-terrorist department at the prefecture and a female administrator in the public security department. A female employee of the human resources department was seriously injured and was operated on at the Percy military hospital.
Officials did not say anything about the motive for the attack.
Confirming the deaths, the interior minister, Christophe Castaner, said from the scene: He worked with these colleagues and had never shown any behavioural difficulties or anything to raise an alarm.
Our thoughts are with their families and of those who were injured … the news regarding the injured is reassuring.
The inquiry has started. I am thinking of the police here and around France. Everyone is shocked and profoundly hurt by what has happened here.
The French president, Emmanuel Macron, and the prime minister, douard Philippe, both visited the scene. The man, aged 45, had worked in the technology department since 2003.
Public prosecutor, Rmy Heitz said an investigation had been opened into murder and attempted murder of public agents and that anti-terrorist investigators were evaluating what had happened, for any terrorist links.
Searches are currently taking place at the suspects home and other investigations will be taking place in the next few hours, he said. The attackers wife had been brought into police custody but not charged, the Paris prosecutors office said.
French media quoted police union officials suggesting the motive may have been personal.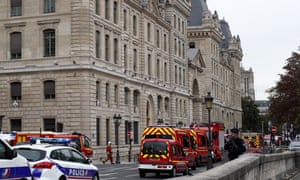 Source: http://www.theguardian.com/us