Traumatised by her legal struggles with producer Dr Luke, the once hedonistic pop star felt she didnt deserve to be happy. But now she is back with a new album and ready to party again
Ive never forgotten the first time I saw Kesha. It was at T in the Park 2011, an otherwise unmemorable weekend festival in Scotland. During her main-stage performance, the woman then known as Ke$ha told the crowd that she had one pressing question. Is there, she said, prolonging the anticipation, enough glitter on my titties? The noisy consensus was no, there was not, so her accomplices doused her in a can of lager and an explosion of gold that left her looking like the daughter of C-3PO and Dolly Parton.
These gleeful exploits defined Kesha Rose Sebert as a pop star for a while. She followed her defiantly trashy 2010 debut, Animal, with the equally riotous Warrior in 2012, becoming a trailblazer for hedonistic pop. Then she disappeared. In 2016, a new image emerged: Kesha wearing a white suit, sobbing in court as she tried to escape her contract with the producer Dr Luke (AKA Lukasz Gottwald), whom she accused of sexual and emotional abuse including date rape and bullying that led to her developing an eating disorder. He denied the allegations. Her case was dismissed. While she could pick new collaborators, she still had to record for his label, an imprint of Sony, and he countersued for defamation.
Keshas third album, 2017s Rainbow, arrived during her legal struggles. While she couldnt sing about her alleged strife, she made her stance plain: When Im finished, they wont even know your name, she belted on Praying. The rockier, more personal album earned her the best reviews of her career. I was not used to having nice press, Kesha says with a small, stunned laugh. It was shocking, and also at a time where I so needed kindness.
But the validation left her feeling uneasy. I dont feel as if Im beholden to be a tragedy just because Ive gone through something that was tragic, she says. Thats really important for people to know you do not have to be defined by something that was done to you.
It is early October. Kesha, now 32 and newly brunette, has just debuted her new album, High Road, at a glitzy playback for the media. A few downbeat songs aside, her new music revitalises her rowdy trademark sound in the way that Tina Turner and Rihanna did after rejecting their own victim narratives. After Praying, people thought Id always take the high road, she tells us, handing out tequila. And this song is about getting super fucking high.
A while later, the drink worn off, Kesha sits in a hotel room. She is wearing enough gold chains to deflect a bullet and the glitter is back: translucent blue hearts encrusted beneath her eyes; gothic, bejewelled nails that look like 10 mini Iron Thrones crowning heavily tattooed arms. But she is nervous, speaking carefully and often steering her answers back to her gratitude for her fans kindness not so much platitudes, more a conversational safety net for a woman legally prevented from discussing certain things. She returns that kindness, too. When I ask for advice about a shared experience, she goes off-record and is so compassionate that I have to pull myself together before continuing.
Before starting her fourth album, Kesha didnt think she deserved to make happy music. I can be so fucking mean to myself, she says, sighing at the understatement. Her brother told her she should be writing pop songs, the thing she was good at. And I was pissed! she says. I dont do well with people telling me what to do, and I was so conflicted about what I wanted versus what was expected of me, and trying to please everyone is exhausting.
She wrote her defiance into a rumbling thigh-slapper called My Own Dance: Whats a girl to do? / Youre the party girl / Youre the tragedy / But the funny thing is Im fucking everything. She still had to be talked into following the poppy direction it suggested. There was an element of not feeling like I should be celebratory because of everything Ive gone through so publicly. She pushed through: on High Road, wine is smuggled in handbags, impromptu drunk tattoos are inked, plentiful highs are toked.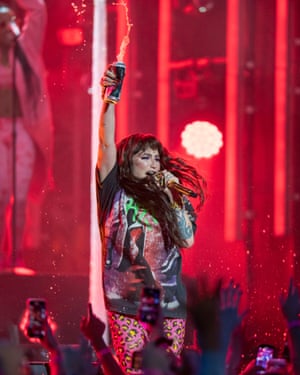 Source: http://www.theguardian.com/us