The long read: In February, a gang of armed men took a North Korean official hostage and demanded that he defect. When he refused, their plan fell apart, and they fled. Who were they, and why did they risk everything on this wild plot?
Shortly before 5pm on 22 February, a suited man with a lapel pin bearing the dimpled face of Kim Jong-un rang the doorbell of the North Korean embassy in Madrid. The man had visited the embassy before. Fifteen days earlier, he had been turned away by an official who was suspicious of his claims that he was a businessman hoping to invest in North Korea. Before he left, the visitor gave the official his card, which said he ran a Dubai-based investment fund named Baron Stone Capital.
Now the visitor had returned, claiming he had a gift for the embassys senior official, So Yun-sok. This time, he was ushered inside and asked to wait in the courtyard between the compounds main two-storey building and its solid metal outer gate. While the official went to look for Mr So, the visitor walked to the perimeter of the compound and surreptitiously released the lock on the outside gate.
A few moments later, a group of men carrying combat knives, iron bars, handcuffs and fake pistols burst through the embassy door. According to a 14-page summary of the incident by the Spanish high court judge Jos de la Mata, within minutes all four male employees at the embassy had been tied up and bundled into a first-floor meeting room. The assailants, some wearing black balaclavas and others with their faces uncovered, spoke in American English and the distinctive Korean of Seoul and the South.
Mr Sos wife, named in Spanish court documents as Jang Ok Gyong, was watching television with their eight-year-old son when she heard what sounded like a struggle in the hallway. She locked the room, but soon the assailants forced their way in, though they insisted they would do her no harm. For the next four hours, she and her son were held captive, watched by a man with a black scarf over his face, a body camera and what seemed like a real gun in a holster. She claims she was so terrified that she secretly grabbed a razor to slit her wrists, but was unable to follow through. Instead, she and her son huddled together under a blanket.
In the meeting room, according to testimony from the embassy staff, the assailants placed black hoods over the hostages heads, swapped some of the plastic cable ties they had used to secure the hostages for handcuffs, and ordered them to sit in silence. One assailant was allegedly overheard asking another exactly how many people were taking part. There are 11 of us, was the reply. The senior official, So Yun-sok, was then taken down to the basement, where the group finally revealed one of its aims. They wanted him to defect.
Diplomatic defections are one of North Koreas most visible problems, and in recent years there have been two high-profile cases. Just a few months before the embassy raid, in late 2018, the acting ambassador to Italy had abandoned his post and gone into hiding. Two years earlier, the deputy ambassador in London, Thae Yong-ho, became the most senior North Korean official to defect to South Korea.
In the basement, the attackers told So Yun-sok they wanted him to become the ambassador of a new state set up by them a free state, he later told Spanish investigators. The men claimed that the North Korean government has very little time left and said other groups were going to do the same thing. Yet there were no embassy raids in other countries, and Mr So refused to defect.
From this point onwards, the assailants plan began to fall apart. Eventually, with Spanish police outside the embassy growing increasingly suspicious, the men decided to make their getaway. They were remarkably successful. More than six months later, only one of the group allegedly involved in the raid has been detained a 38-year-old former US marine sergeant, Christopher Ahn. A global manhunt is under way for up to 10 more assailants.
After the attackers fled, in the days and weeks that followed, details about their identities and aims started to trickle out, leaving as many questions as answers. The group seemed to be largely comprised of Korean Americans, South Koreans and North Korean defectors. But who were they? What did they want? Why did they fly across the world to attack an embassy in Europe? And what was the significance of the fact that one alleged member of the group turned out to have impressive connections within Washington?
Alongside the obvious strangeness of the raid itself, Korea-watchers were struck by the timing. A few days later, Donald Trump was due to meet Kim for a summit in Hanoi to discuss the denuclearisation of the Korean peninsula. Was that why this mysterious group raided the embassy? Spanish investigators remain puzzled, but Mario Esteban, a Korea expert at Madrids Elcano thinktank, believes it was an attempt to disrupt Trumps meeting with Kim. It was a very risky thing to do, in a friendly country, just before Hanoi and messy, he told me. Nothing else makes sense. That, however, is not what the attackers say.
---
Three days after the attack, an obscure dissident group called Free Joseon, or Free North Korea, claimed responsibility, and later announced they were forming a rebel government-in-exile. We hereby take into our own hands our destiny and duty, the group declared. Prior to the Madrid attack, only the most eager Korea-watchers had heard of this group, and observers are still piecing together clues about the groups members and backers. Its a radical group of people you can call zealots, heroes or fanatics, depending on your point of view, Andrei Lankov of Kookmin University, a leading expert on North Korea, told me by phone from Seoul.
There are two opposing versions of events inside the embassy, neither of them fully reliable. One comes from Free Joseons website, which strongly denies that violence was used. Its official line is that the group were responding to a request from embassy officials, who had contacted Free Joseon for help in defecting.
The second version comes from the hostages, who included the wives of two officials and an eight-year-old child. As servants of Kims murderous and paranoid regime, they must be careful not to upset their leader or his enforcers. Yet Spanish investigators found enough evidence in witness statements, police evidence and an embassy search to issue arrest warrants for robbery with violence and intimidation, illegal restraint, threats, causing injuries and membership of a criminal gang. The embassy officials described an experience similar to that of US army captives in Iraq, where Ahns battalion once ran a Fallujah detention centre. (Sources close to Ahn told me he was not the only military veteran involved in the raid, but refused to specify which countrys armed services the others had served in.)
The rights and wrongs of the case should eventually be decided at a trial in Madrid that is, if the suspects can be located, the US agrees to Spains request for American suspects to be extradited, and North Korea allows its embassy staff to be cross-examined. In the meantime, court and police documents originating from Spain, Italy and the US point to three key, US-based players.
First, there is the groups alleged leader: Adrian Hong. A wanted poster, released by US marshals, says Hong uses at least two aliases, is considered to be armed and dangerous and had been seen driving around Los Angeles in a large white Kia Soul SUV with a licence plate that read Ardent. It was Hong who posed as an investor when he first approached the embassy in early February. In reality, Hong is a Los Angeles-based, Yale-educated Mexican-Korean, with a long history of peaceful activism on issues relating to North Korea.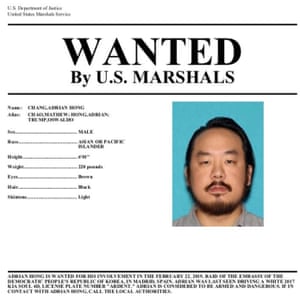 Source: http://www.theguardian.com/us