Aircraft carriers Akagi and Kaga were sunk by US forces during second world war confrontation
Marine archaeologists believe they have identified the wreck of the Japanese aircraft carrier the Akagi, which was sunk during the second world wars battle of Midway, regarded by some historians as one of the most consequential naval engagements in history.
In the space of a week naval historians with the research vessel Petrel announced that they had discovered the remains of two of the four Japanese carriers that were sunk during the battle. The teams efforts had concentrated on identifying all of the vessels sunk during the June 1942 engagement that cost the lives of 2,000 Japanese and 300 Americans.
The expeditions director of undersea operations Rob Kraft and Naval History and Heritage Command historian Frank Thompson reviewed high-frequency sonar images of the warship on Sunday before asserting that its dimensions and location meant it had to be the carrier Akagi.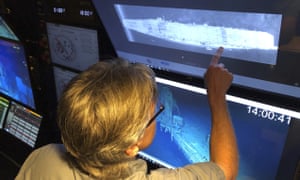 Source: http://www.theguardian.com/us