Riding the scooter along the clifftop at Beachy Head, I got too close and fell off
Phil Daniels, played Jimmy
I wasnt well when I went for the auditions at Shepperton Studios in Surrey. Id been in South Africa filming Zulu Dawn and got some sort of disease. I looked washed out. When the director Franc Roddam saw how sick I was, he told me to go home, but I was asked back for a screen test. When I heard that Johnny Rotten was no longer being considered for the lead role, I thought: Well, this is it.
Roddam had us hang out for a month before filming started. He encouraged the depraved side of our nature he was not one for tucking us into bed at night. We wore authentic clothes and were given lessons in how to dance and ride a scooter and we got to hang out with some original mods. We were living it, doing all sorts of stuff to get us into the mood. Thats why it looks like we arent acting.
We shot the end of the film first, at Beachy Head. Riding along the clifftop, I got a lot closer to the edge than I was meant to and fell off the scooter a couple of times. I remember the first assistant director, Ray Corbett, telling me: Listen, its the third day. If you fell off that cliff, dyou know what would have happened? They would have recast you tomorrow.
Jimmys not a hero, hes just a normal boy next door, and thats what makes him work. He ultimately rejects the whole ethos of being a mod making your whole life revolve around sitting on a silly scooter. In the end, he had to jack it in to move on. He couldnt take it any further.
Quadrophenias a difficult one to live down. Over the years, its filled me with horror and joy. At the time, a friend warned me: If its a hit, they may only ever remember you as Jimmy.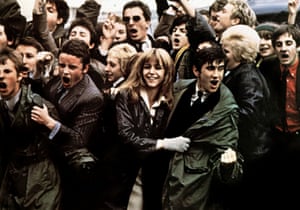 Source: http://www.theguardian.com/us