This weekend the government and protest movement claims of public support will be put to the test at the polling booth
This Sunday Hong Kong holds district council elections. Normally a sleepy affair with low turnout, this year they have become a focus of intense interest.
Nearly six months of protests have upended daily life, and the poll is expected to serve as a kind of proxy referendum on the movement and its calls for greater democratic rights.
Even as violence escalated, there have been strong demonstrations of public solidarity with frontline protestors. But Hong Kong authorities argue a silent majority backs their hardline stance.
This weekend both sides claims of popular support will be put to the test at the polling booth, in an election that is no longer simply about who sits on relatively toothless local councils.
Its is one of the few avenues we have left to express our voice, said Lokman Tsui, assistant professor of communication at the Chinese University of Hong Kong: When you are continually and structurally being disenfranchised, you hold onto any right you have left.
How will the elections work?
Hongkongers will be asked to choose 452 district councillors, who serve on 18 different councils across the city. All Hong Kong permanent residents who are 18 or over have the right to vote. Voting opens at 7.30am, with over 600 polling stations across the city serving 4.13m registered voters.
Polls close at 10.30pm, and vote counting starts straight away. The first results are likely to come through in the early hours of Monday morning and the full picture should be clear by the time the city goes back to work.
In the last elections, pro-Beijing parties won a clear majority, over 783,000 votes compared with 540,000 for opposition pro-democracy parties. It gave them 298 of the seats, and control of all but one of the district councils.
Now pro-democracy parties hope to significantly erode or overturn that lead. They will be looking at the overall number of votes cast for their candidates, not just the number of seats they can take.
Who is competing?
Hong Kong has a plethora of small political parties, that broadly divide into two camps. The pro-Beijing establishment holds the balance of power, while pro-democracy groups serve almost perpetually in opposition, both on the district councils and in the citys legislature.
Deep pockets and strict discipline have helped pro-Beijing parties smooth their way to victory in past elections. The DAB democratic alliance for the betterment and progress of Hong Kong is easily the citys biggest party.
There is no equivalent heavyweight party on the pro-democracy side. The multitude of groups have struggled with fractured political alliances, and lack of funds in the past. But this year they have been united by a common enemy.
For the first time ever, they aim to field candidates in every seat, including strongly pro-Beijing areas that have gone uncontested in the past. That will allow them to fight for a greater number of votes overall. They are also coordinating where candidates stand, to avoid splitting the anti-establishment vote.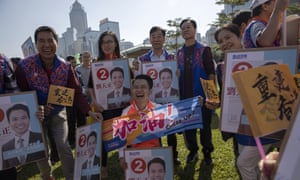 Source: http://www.theguardian.com/us