Each country releases 35 prisoners in biggest exchange since start of Crimea conflict
Kyiv and Moscow have exchanged dozens of prisoners in a dramatic operation that resulted in freedom for 24 Ukrainian sailors taken captive by Russia, as well as a potential suspect and key witness in the downing of Malaysia Airlines flight MH17.
The Ukrainian president, Volodymyr Zelenskiy, was on the tarmac at Kyivs Boryspil airport to greet the prisoners released by Russia on Saturday morning. There were emotional scenes as family members were reunited on the runway.
Oleg Sentsov, a Ukrainian film-maker sentenced to 20 years prison in Russia on controversial terror charges in 2015, was among those returning home.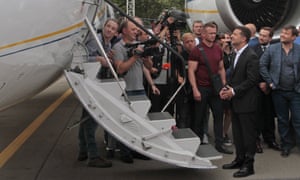 Source: http://www.theguardian.com/us