With gameplay that denies instant gratification, Hideo Kojimas unashamedly political game is this years most interesting blockbuster game by far
For almost three and a half years, Death Stranding has kept us guessing about its true nature and when the credits roll after a gruelling, occasionally magical, 60 hours of delivering parcels-turned-metaphors, you wont know whether to laugh or cry with relief. Divisive creator Hideo Kojimas open-world epic resolves its mysteries, but your satisfaction is numbed by painful memories of relentless trekking, jarring menu management and some frankly wild tonal shifts. Over time, your relationship with Death Stranding may start to shift, but its a slow-burn album track, not a pop hit.
Your feelings about Hideo Kojimas longest, most indulgent, project will hinge on how you buy into the games theme about the importance of belief when all seems futile. About 80% of your time is spent trudging across mountains delivering parcels. Imagine Amazon CEO Jeff Bezos atoning for his sins in an especially cruel episode of Black Mirror. At times, the act of playing Death Stranding is a test of faith in itself, not only in Hideo Kojimas ability to surprise, but that your efforts will ultimately be rewarded.
For reasons unknown, America has been fractured by the Death Stranding event, causing the dead to roam the world of the living as shadowy spectres known as the beached things, or BTs. People have retreated into isolated communities and your job is to deliver supplies and reconnect the chiral network a mega-internet to unite the country. You need to cross the shattered landscape and find the presidents daughter Amelie who has been abducted by terrorists called the Homo Demens. Theres obviously more going on, as hero Sam Bridges (Norman Reedus) unearths his past, and learns about the mysterious Cliff (Mads Mikkelsen) and your ghost detecting pod-baby, BB.
Death Stranding defies convention, focusing on connection over combat and (almost) removing the notion of restarting a mission when things go wrong. Case in point: I failed to plan a delivery route and got swamped by BTs, who wrecked my cargo. Having never so much as dented a parcel in the games opening hours, the sight of 10 cases being ruined provokes blind panic bordering on remorse. My instinct is to quit and restart the task, but while lost items can be picked up later from a delivery centre, if a cargo is destroyed beyond repair, its lost forever. Its in this moment that Death Stranding is born, as you resolve to push on with a nagging sense of failure, unable to reset and start fresh.
Eight hours in, I hadnt shot a single person. The challenge comes from the surprisingly engaging cargo management, where you trade weight against balance, speed against stamina, and weigh up risky shortcuts over treacherous terrain. Once you adjust, holding L2 and R2 to grab your backpack navigates most scenarios and sloppiness is the threat, for example sprinting into deep water without scanning its depth. The ghost-evading BT sections require stealth, but wont tax Metal Gear Solid (MGS) veterans. Mules are the main human enemy, and easily dealt with by using basic kicks and punches (all on one button) and a simple evade system. Youll unlock new kit as you progress, such as bola cable tie guns, further reducing the threat.
Hideo Kojimas liberation from the MGS series can feel like X-Mens Cyclops removing his visor and having a good old look around its a little much. Think 2001, The Road, The Leftovers, Silent Hill and Planet Earth reinterpreted as three days of UPS contract work. Death Stranding pulverises the player with its overwhelming scale, seemingly unending objectives and fastidious resource management. Yet, despite everything, the game somehow pulls you through, creating a cycle of punishment and reward in a technically brilliant blockbuster experience quite unlike anything that has come before.
The opening hours of the game are cut-scene heavy, creating intrigue that just about drives you forward to the point when youre 35 hours in and losing the will to zigzag up another vertical slope. Initially, Death Strandings barren world makes you feel the weight of every footstep, until the dizzy liberation of unlocking your first bike and whizzing along miles of broken ground in a heartbeat. Later on, youll find vans which stop your parcels degrading in the rain and upgrades that make a mockery of the games early simplicity.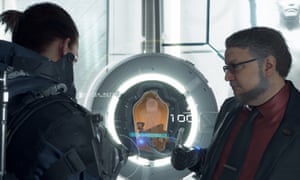 Source: http://www.theguardian.com/us