With revenge raccoons and boardroom satans, the drama about media tycoons is casually masterful, absolutely hilarious and has anarchy in its DNA
A comedy that gets less funny as it goes along? Mmm, tell me more. One that takes us inside a wealthy media dynasty flouting every moral and judicial law in order to consolidate power? Ok. Heres the best bit there are no likeable characters! Sounds about as much fun as eczema. So why do I, like so many others, currently love Succession more than any other show on TV?
For a start, watching it feels like getting the gossip. Sons Roman and Kendalls battle for dominance echoes that of James and Lachlan Murdoch, sons, of course, of Rupert Murdoch. Daughter Shiv is partly based on US executive Shari Redstone, who forced her ageing media tycoon fathers hand to take control of his company. The Trump name swirls around this world too, like flies on faeces. Stories of Donald refusing to pay his contractors are legion, just like the storyline in the show that resulted in a revenge raccoon being shoved up Logan Roys chimney (none of which is a euphemism). Though of course the character of Connor Roy – the moronic, incompetent, hooker-dependent son who thinks he can be president – is wholly rooted in fiction.
Moreover, it is fun. Unreasonably so. Succession has a kind of spontaneous, semi-improvised anarchy in its DNA. Actors are given multiple takes to horse around, with writers lobbing in alternate comic lines. Jesse Armstrongs opus is tightly written, though at points almost a screwball comedy. Screw-you-and-a-kick-in-the-balls comedy would be more on the money, in fact. The command of language is absolute, most often in the service of childish insults.
Weve seen this before in The Thick Of It one of Armstrongs previous shows but it is stranger, more deeply rooted in character here. A recent episode featured horse potatoes! a cutting interjection from old-world matriarch Nan Pierce; later the insult mole-woman becomes somehow flirtatious in the mouth of Roman Roy, Kieran Culkins compulsively rude, stupid-intuitive imp.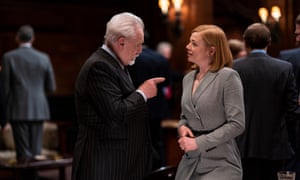 Source: http://www.theguardian.com/us