A huge blaze which ripped through an Edwardian mansion in Cumbria has been tackled by 40 firefighters.
Cumbria Fire and Rescue Service said no-one was injured in the fire at Scalesceugh Hall, near Carlisle.
The site is in the process of being converted into retirement apartments and is a Grade II-listed building.
The building's owners said they owed "an enormous debt of gratitude" to the firefighters for their "tireless efforts" to control the fire.
Bruno and Anita Herdeiro said they were "devastated by what has happened".
"We have put our hearts and souls, time, love and much money into restoring the Edwardian mansion that brought us to this beautiful corner of Cumbria," they said.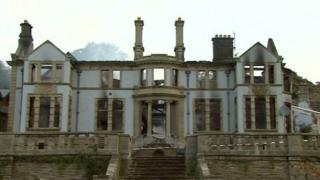 Firefighters were called to the site just after 23:00 BST on Tuesday and brought it under control by about 06:00, but remain at the scene.
No-one was in the building at the time. Ten neighbouring properties were evacuated and firefighters managed to stop the fire spreading.
About 40 firefighters from Longtown, Brampton, Carlisle, Lazonby, Wigton, Appleby and Penrith, are at the scene.
It is not known what caused the fire, but it is not believed to be suspicious.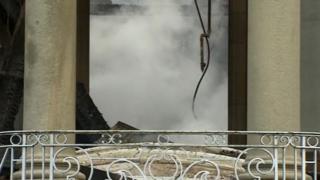 Source: http://www.bbc.com/news/uk