The territorys recession is getting deeper and the US is threatening its special trading status, bringing serious consequences for Beijing
Almost six months after the protest movement that has upended life in Hong Kong began, the region is now facing serious questions about its future as Asias leading international business centre.
The most recent violence in the autonomous Chinese region have been the worst disturbances of the six-month long pro-democracy protests. US lawmakers have passed legislation threatening Hong Kongs special trading status and the territory has slumped into its worst recession for 10 years.
With next year shaping up to be even tougher, the protesters appear to have achieved the ambition expressed in a recent poster on social media this week. Squeeze the economy to increase pressure, it urged.
Trade and commerce is the lifeblood of Hong Kong but it is bleeding badly. The economy is expected to shrink by 1.4% in 2019 and economists think growth could wither by as much as 3% in 2020 without a big fiscal stimulus.
The retail and tourism industries, which have thrived in tandem with Chinese visitors spending freely in the citys shops, are suffering particularly badly.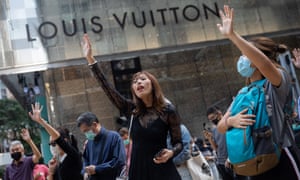 Source: http://www.theguardian.com/us